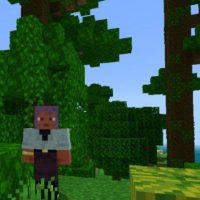 Jungle Map for Minecraft PE
Version MCPE: 1.17.0 - 1.20.15
Download
Download Jungle Map for Minecraft PE: visit unique natural locations, meet their unusual inhabitants, and find a lot of new things.
What is interesting in Jungle Map?
Especially for all wildlife lovers, the authors have created a Jungle Map. These locations are perfect for those who would like to try their hand at survival on the island. It is worth noting that not every user will be able to pass such a test.
The fact is that despite a fairly extensive territory, the resources in this place will not be as diverse as they are in the standard version of Minecraft PE. But in any case, such an adventure will be remembered for its uniqueness and new opportunities.
Island
The author of this update for Jungle Map has created a very large location, where a large number of different islands are located. But even though they are separated by the ocean, their nature on them will be completely identical.
Thus, Minecraft PE players will have a very limited set of resources and other useful objects. Truly heavenly nature will create an amazing atmosphere in the game. The dense green forest will calm you down and allow you to fully enjoy the surrounding views.
Endless Jungle
On the territory of this location for Jungle Map, players will find many interesting and unique buildings, for example, there will be a mysterious temple right in the middle of the forest. Also, the most curious heroes of Minecraft PE will meet a fortress on their way.
The amazing natural world will open to everyone who installs this update. In addition to tall trees covered with vines, you can often find a variety of animals in Jungle Map. Pandas, parrots, and other inhabitants of wild places will be constant companions of travelers.
It is worth noting that the territory is infinite, that is, there are no limits to which the player can reach. The developers also took care that the heroes did not waste extra space on the device, the installation file is very compact.
How to download Jungle Map?

Tap the file and open it in Minecraft PE.

Can I use this map with my friends?

Yes, the map can be used for a multiplayer game.

Can i use the map in the survival mode?

Yes, the map is suitable for the survival mode.
download anchor
Download Jungle Map for Minecraft PE