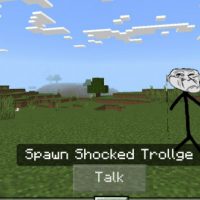 Trollge Face Mod for Minecraft PE
Version MCPE: 1.17.0 - 1.20.15
Download
Download Trollge Face Mod for Minecraft PE: meet in the cubic world with very unusual creatures created based on well-known memes.
What is interesting in Trollge Face Mod?
Currently, there are a huge number of images on the Internet, which are called memes. They like to send them to friends and acquaintances, and they usually have some unchangeable part to which images or text are added.
It can be anything from jokes about friends to political or world events. Such popularity is because thanks to small changes and humor, memes remain relevant at any time.
One of them has a name identical to the Trollge Face Mod add-on for Minecraft PE. This time the authors decided to introduce very unusual creatures into the cubic world.
Mob options
It is worth noting that the creatures that will appear in Minecraft PE after installing Trollge Face Mod have a rather primitive appearance.  Only two colors are used in the design – white and black.
A huge head with an eerie grimace is located on the trunk, which, like the limbs, is black stripes. The faces of these creatures express various emotions. Players will see options such as Shocked, Sad, Crazy, Funny, and Nervous. The sixth option is an original view.
The villain
All previous variants of creatures are neutral about the Minecraft PE player and only one of them will attack when they meet. Evil Trollge is higher than the other creatures that Trollge Face Mod adds to the game.
He has a healthy reserve of 100 units and deals damage of 30. Thus, meeting him will be dangerous even for an equipped hero. If you defeat this monster, you can get a netherite ingot.
Features
Trollge Face Mod is a great way to surprise your friends and also have great fun. Minecraft PE players can add something new to the game and diversify the gameplay, just install this update.
How do I install this Trollge Face Mod?

The file is in .mcaddon extension, so just tap on the file to automatically install the modification.

Can this mod be run in a multiplayer game?

Yes, for this it is enough just to be the owner of the map and install this modification on it.

What if the mod does not work?

Try to activate the experimental game mode.
download anchor
Download Trollge Face Mod for Minecraft PE