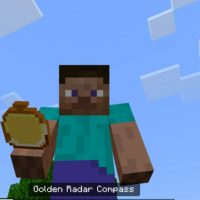 Radar Mod for Minecraft PE
Version MCPE: 1.16.0 - 1.20.15
Download
Download Radar Mod for Minecraft PE: get the opportunity to track the necessary points on the map, as well as observe the movement of various creatures.
What is interesting in Radar Mod?
Minecraft PE already has a similar item, it is a compass. But players use it very rarely, so the authors of these updates decided to combine it with radar. Now the search and tracking of mobs will become a fairly simple and convenient process.
By the way, the authors of Radar Mod present a special map on which deposits of various valuable resources will be displayed. This will undoubtedly facilitate the process of finding them and make the gameplay even more interesting.
Map
After installing this update for Radar Mod, a small map will appear in the upper corner of the screen, which will serve as a kind of radar. With its help, Minecraft PE players can easily find hidden mines and deposits of valuable resources.
For example, red marks will mean that there are a lot of diamonds in this place. When players see the yellow mark, hurry in this direction, because there players can find a large variety of minerals.
Now every user can easily and effortlessly find any resources and replenish their reserves in the cubic world.
Radar
This time Minecraft PE players will get a full-fledged modern radar. This update for Radar Mod is presented in three versions: iron, gold, or diamonds. The last one has the largest range of action, it is thirty-two blocks.
The target of detection will be creatures that inhabit the game space. And not only aggressive but also passive and friendly mobs. Everything will be marked on the screen. By the way, to create this item in Survival mode, users need to collect eight blocks of any of these resources and surround the display with them, or simply find ready-made objects in the Inventory.
How do I install this Radar Mod?

The file is in .mcaddon extension, so just tap on the file to automatically install the modification.

Can this mod be run in a multiplayer game?

Yes, for this it is enough just to be the owner of the map and install this modification on it.

What if the mod does not work?

Try to activate the experimental game mode.
download anchor
Download Radar Mod for Minecraft PE