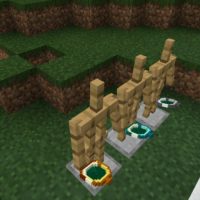 Compass Mod for Minecraft PE
Version MCPE: 1.12.0 - 1.20.15
Download
Download Compass Mod for Minecraft PE: use special items to locate mobs or other players in the cubic world.
What is interesting in Compass Mod?
There are not many Minecraft PE users who use such an item as a Compass in the gameplay. Its functions are underestimated and the authors of Compass Mod have expanded them and made them even more interesting.
Now it will be possible to use this item to search for different mobs and create them from three different materials. By the way, another modification is perfect for multiplayer mode and use during mini-games.
Player vs Hunter
This version of the Compass Mod allows players to find the coordinates of other heroes. It is proposed to use this option during the mini-games. For example, split into two teams, one of which will hunt the other.
To start using the updated compass in Minecraft PE, enter the command /function run and it will show the direction in which you need to move. You can also change the number of displayed participants or mark them with a special label.
Compass
The functionality of the item that this update will add to Compass Mod is completely different. This time, Minecraft PE players will be able to detect any creatures within a certain range. It will depend on the material used to create the item. For example, the gold variant has a radius of twenty-four blocks, and the diamond one has a radius of thirty-two.
All options can be found in the Inventory of the Creative Mode or craft yourself. For example, a conventional modification will require eight iron ingots and a display.
Hold the object in your hands and move, dots will be displayed on the screen, which indicates the location of certain creatures. Thus, this item will help in the process of hunting or vice versa and will prevent the unexpected appearance of aggressive creatures nearby.
How do I install this Compass Mod?

The file is in .mcaddon extension, so just tap on the file to automatically install the modification.

Can this mod be run in a multiplayer game?

Yes, for this it is enough just to be the owner of the map and install this modification on it.

What if the mod does not work?

Try to activate the experimental game mode.
download anchor
Download Compass Mod for Minecraft PE