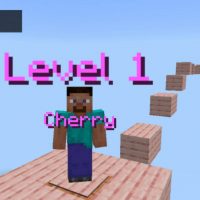 Parkour Blocks Map for Minecraft PE
Version MCPE: 1.14.0 - 1.20.15
Download
Download Parkour Blocks Map for Minecraft PE: rate a lot of interesting and unusual levels in which you can test your dexterity and other skills.
What is interesting in Parkour Blocks Map?
This style of obstacle course includes several types of tests. It is worth noting that parkour has always been incredibly popular among Minecraft PE users. Developers are constantly coming up with new adventures that every player will like.
This time, Parkour Blocks Map used the latest blocks that appeared in the latest versions of the cubic world. Such an adventure will be remembered for bright and unusual tasks.
100 Parkour
An incredibly large, but very interesting location awaits Minecraft PE players this time. The creator of the Parkour Blocks Map has placed 100 cells on its territory, where many unusual tasks are waiting for participants.
Go through them all to test your strength and get a new gaming experience.
New Levels
The main feature of this update for the Parkour Blocks Map is the unique design of each of the eight levels. Starting from the starting lobby, where everything is arranged very comfortably and stylishly.
It is worth noting that the difficulty will increase as you progress through the levels. And for those Minecraft PE players who find the locations too simple, a lever is provided. With it, you can turn on the timer and pass the time tests.
The add-on is as versatile as possible and is suitable both for independent passage and for competition with friends.
Parkour Blocks
The authors of this update for the Parkour Blocks Map used exclusively the blocks that appeared in Minecraft PE in the latest versions. These are bamboo, Sniffer eggs, cherry wood, and clay vases.
Each of the levels will be more difficult than the previous one. Players will need to show not only all their courage but also think outside the box to reach the end.
download anchor
Download Parkour Blocks Map for Minecraft PE