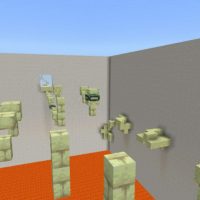 Parkour Challenge Map for Minecraft PE
Version MCPE: 1.16.0 - 1.20.15
Download
Download Parkour Challenge Map for Minecraft PE: show such abilities as agility, the skill to jump high and far, as well as the possibility to make quick decisions.
What is new in Parkour Challenge Map?
There are many fans of parkour-style challenges in Minecraft PE. Indeed, such adventures can be a great gaming experience, because they include a wide variety of levels. The creator of the Parkour Challenge Map invites players to test their skills in this process.
Invite your friends to pass the obstacle course together and have fun in the company of your favorite and exciting game.
10 Stages of Parkour
The authors of this update for the Parkour Challenge Map offer Minecraft players 10 new levels at once to show their dexterity. Of course, you will need to jump on blocks and there is one interesting feature in this addition.
The fact is that players will come across concrete blocks of various colors that will add different abilities. For example, the blue ones will increase the speed, and the lime ones will jump. Pink ones will give the levitation function, and it is better not to step on red ones because in this case, the hero will instantly die.
Part 1
This add-on for Parkour Challenge Map is the first part of a series of updates in this area. At the moment, there are five levels, passing each of which the Minecraft PE player will save his result.
It is worth noting that all levels are characterized by rather difficult tests that only the bravest and most dexterous heroes can pass. Test your abilities and improve your gaming experience every time.
Part 2
This is the second part of this series of add-ons and it will be a little easier for those Minecraft PE players who will cope with the first one.
But it is worth noting that the creator of the Parkour Challenge Map made all the levels very difficult, but at the same time quite interesting and diverse.
How to download Parkour Chalenge Map?

Tap the file and open it in Minecraft PE.

Can I use this map with my friends?

Yes, the map can be used for a multiplayer game.

Can i use the map in the survival mode?

Yes, the map is suitable for the survival mode.
download anchor
Download Parkour Challenge Map for Minecraft PE