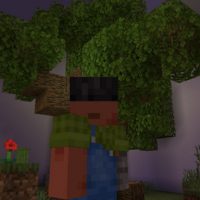 Parkour Rooms Map for Minecraft PE
Version MCPE: 1.19.0 - 1.20.15
Download
Download Parkour Rooms Map for Minecraft PE: show all your dexterity and go through an interesting obstacle course, where each level is not like the previous one.
What is interesting in Parkour Rooms Map?
The author of Parkour Rooms Map is very proud of the result he got and this is a great update for all fans of such tests. Each level is located in a room enclosed by four walls and has a unique interior.
Minecraft PE players need to inspect the territory very carefully so as not to make an irreparable mistake. All levels are conditionally divided by degrees of difficulty from easy to more difficult.
Such a test will be a great reason to practice dexterity and get new useful skills in the gameplay.
Parkour Rooms Map
The first part of the Parkour Rooms Map consists of 15 levels. All of them are divided into three groups, namely easy, medium difficulty, and complex. Players will start from the simplest level and gradually, as they pass the tests, it will become more difficult to cope.
Each room has a unique interior, for example, it can consist of sand or stone, ice, and other resources. Also, one of the levels will be dedicated to the forest and the Lower World. Invite your friends to compete together in the ability to control your movements in Minecraft PE.
Part 2
This time there are even more rooms, there are now 20 of them and the last one has the largest dimensions. The author of Parkour Rooms Map tried to make each location special and their decor is not repeated.
It is worth noting that 4 Minecraft PE players can be present on the map at the same time. But if there are even more of them, it is not critical. By the way, compared to the previous version of this update, the size of each location has become a little larger, which means that it will be more interesting to pass such tests.
Show all your skills in parkour to become the most agile and fastest user of the cube world.
How to download Parkour Rooms Map?

Tap the file and open it in Minecraft PE.

Can I use this map with my friends?

Yes, the map can be used for a multiplayer game.

Can i use the map in the survival mode?

Yes, the map is suitable for the survival mode.
download anchor
Download Parkour Rooms Map for Minecraft PE