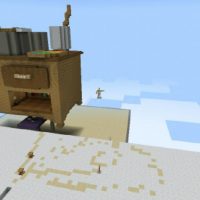 Art Map for Minecraft PE
Version MCPE: 1.14.0 - 1.20.41
Download
Download Art Map for Minecraft PE: show your talent and create a picture right in the vastness of the cubic world.
What is new in Art Map?
In the world of Minecraft PE, players have many different opportunities to show their creativity. Users can build a house or a mansion, develop unique mechanisms or create new textures.
Art Map offers players the to try themselves in creating huge paintings. This location will have everything you need. Starting from a huge white canvas and brushes and ending with a huge selection of paints.
Truly unique opportunities to fully feel like an artist. There has never been anything like this in the cubic world.
Creative possibilities
The first thing a player who gets to the Art Map will notice is a huge white canvas. It has a size of 128 by 128 blocks and provides the hero with a large platform to realize all his creative ideas.
Next to the still empty sheet is a large table with all the necessary devices. This includes a variety of brushes, a large color palette, as well as a size editor.
By the way, the developer has prepared a small tutorial for Minecraft PE players, which explains in detail how to fully use all the features of the update.
Tools
The main subject that all artists use is a brush. Art Map offers 8 different sizes from 1 to 33 blocks. Players can also change the color of the canvas itself. To make it easier for players to create drawings, a palette is offered.
You can save up to 4 different colors on it. It is worth reading the instructions before using them, in which the author provides information on the correct use of all tools.
It is worth noting that all the items are very conveniently located and it will be convenient for players to use them in the process of creating their masterpiece. Every Minecraft PE user will be able to show their creativity and create a new masterpiece.
How to download Art Map?

Tap the file and open it in Minecraft PE.

Can I use this map with my friends?

Yes, the map can be used for a multiplayer game.

Can i use the map in the survival mode?

Yes, the map is suitable for the survival mode.
Download Art Map for Minecraft PE