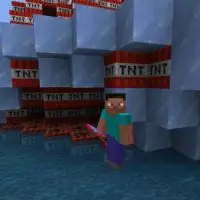 Tsunami Mod for Minecraft PE
Version MCPE: 1.16.0 - 1.20.41
Download
Download Tsunami Mod for Minecraft PE: try to survive during terrible natural disasters.
What is new in Tsunami Mod?
In Minecraft PE, the hero has to cope with various difficulties. For example, hostile mobs can attack at any moment. Users have to be ready for any challenges.
But at the same time, no natural disasters occur in the cubic world. There are no tsunamis, earthquakes, or ice storms. Only rain and snow, do not affect the gameplay in any way.
The authors of Tsunami Mod have come up with a very interesting opportunity to influence the most incredible natural disasters. The player will have several special buckets to choose from, which will contain far from milk or even magma.
There will be a real tsunami or other natural disasters in them.
Amazing features
Tsunami Mod is really such a unique update. Even experienced players in Minecraft PE have definitely not seen this yet and could not even imagine that it was even possible.
Several variants of new items will appear in the game. These are special, one might even say magical buckets. Which contain natural phenomena and other hazards. It is enough to pour the contents of the bucket and the entire surface around will begin to fill with an unprecedented substance.
By the way, if the player wants to stop the spread, there is a stop bucket in the set.
Variants
Of course, in Tsunami Mod, first of all in the Inventory, the hero will be able to find an item that causes a large amount of water to appear in Minecraft PE, which is called a tsunami.
By the way, there are several more unusual buckets in the set:
toxic water – looks very dangerous;
fire – spreads very quickly over the entire surface;
dark and icy liquid – the first is similar to magma, and the second is able to freeze everything around;
blackhole – surrounding objects and mobs will be dragged into it and disappear;
buckets with paint are the most harmless, they can paint the space white or pink.
How do I install this mod?

The file is in .mcaddon extension, so just tap on the file to automatically install the modification.

Can this mod be run in a multiplayer game?

Yes, for this it is enough just to be the owner of the card and install this modification on it.

What if the mod do not work?

Try to activate the experimental game mode.
Download Tsunami Mod for Minecraft PE