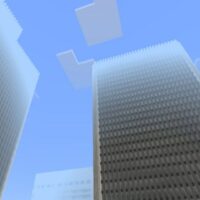 Twin Towers Map for Minecraft PE
Version MCPE: 1.19.0 - 1.20.41
Download
Download Twin Towers Map for Minecraft PE: Explore famous buildings, walk through the streets of an American city, and feel like a true New Yorker.
Twin Towers Map for Minecraft Bedrock Edition
Minecraft PE heroes can visit any location in the world, including one that currently no longer exists. The tragedy that occurred in this place claimed the lives of hundreds of people, but before that, the Twin Towers were a very popular and iconic place in New York.
The authors of Twin Towers Map created this place in compliance with all scales and recreated the famous constructions, roads, and the square in front of them as accurately as possible. The interiors are also exciting, and given the size of these buildings, there is a place to walk.
Territory
Remarkably, the creators of the Twin Towers Map did not limit themselves to the construction of the prominent and infamous skyscrapers themselves but also arranged the area around adjacent streets.
There is a small square next to the towers. There are benches for relaxation, trees, flowers, and sculptures. As well as a stage where artists can perform. It is worth noting that this place for Minecraft Bedrock Edition is devoid of locals. Therefore, players can determine for themselves whether someone will live in this place or it will remain empty.
Interior
For the process of exploring skyscrapers to be interesting, the creators made the interiors diverse. There are various offices, lobbies, elevators, stairs, and more.
There is enough space even for a large number of Minecraft PE players because the constructions are very large-scale. It is impossible to even see their roofs from the ground. Twin Towers Map is a great opportunity to plunge into the real life of the famous American city.
Features
For the adventures to be exciting, Minecraft PE users can come up with a wide variety of entertainment, and invite their friends.
Start a new journey story with Twin Towers Map right now.
How to download Twin Towers Map?

Tap the file and open it in Minecraft PE.

Can I use this map with my friends?

Yes, the map can be used for a multiplayer game.

Can i use the map in the survival mode?

Yes, the map is suitable for the survival mode.
Download Twin Towers Map for Minecraft PE