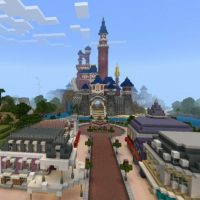 Disneyland Map for Minecraft PE
Version MCPE: 1.12.0 - 1.20.41
Download
Download Disneyland Map for Minecraft PE: visit some of the most popular amusement parks of our time.
What is new on Disneyland Map?
Every child and adult has dreamed of visiting the famous Walt Disney Park at least once. Those lucky people who are lucky enough to do this are ready to share their impressions for hours.
Now Minecraft PE players have such an opportunity. With the help of Disneyland Map, now every user can independently travel around the amusement park at any time.
All the rides, slides, and castles of fairy princesses will be available to visit and will definitely appeal to everyone who decides to post them.
Park
With this update for Minecraft PE, every player has the opportunity to visit one of the most famous amusement parks in the world and at the same time do not even have to go anywhere.
The developers have recreated all the original elements as completely as possible, so Disneyland Map looks incredibly cool and realistic.
All the rides are working and the hero will need a lot of time to ride them all. This map has entertainment for every taste, starting with a roller coaster and ending with a real Cinderella Castle.
At the same time, there is one opportunity available to players in the cubic world, which is not available to visitors in the real world. The hero can go into the technical rooms and see how everything looks inside.
Resort
One of the most popular places in Japan is Tokyo Disneyland, now available to Minecraft PE players. This is a truly incredible map that recreates in great detail all the attractions and entertainment of a real park.
Players can see with their own eyes and visit various buildings, attractions, slides, and, of course, Walt Disney Castle.
An indescribable emotion can be given by visiting Disneyland Map. And certainly, no user will remain indifferent when he sees this magnificent place.
How to download Disneyland Map?

Tap the file and open it in Minecraft PE.

Can I use this map with my friends?

Yes, the map can be used for a multiplayer game.

Can i use the map in the survival mode?

Yes, the map is suitable for the survival mode.
Download Disneyland Map for Minecraft PE