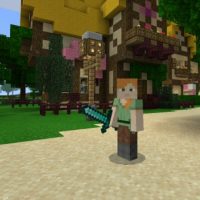 My Little Pony Map for Minecraft PE
Version MCPE: 1.8.0 - 1.19.83
Download
Download My Little Pony Map for Minecraft PE: create a fabulous world and defeat all enemies with new weapons.
What is new in My Little Pony Map?
The animated series about little rainbow ponies has been incredibly popular for a long time. The developers of My Little Pony Map decided to recreate a fabulous world in Minecraft PE.
By the way, the hero will have new cool elements of weapons in the style of the cartoon.
Magic Items
Each pony in the original cartoon has its own magical abilities, they help these cute animals cope with various difficulties.
Now Minecraft PE users have the opportunity to get unique skills with the help of various items. From the Twilight Sparkle, the hero will get a bow that can blow up several mobs or a group of objects.
Not being afraid of fire or being able to burn opponents will help a rod from a pony named Pinkie Pie. If the hero needs to lure opponents into an ice cave, an ice shovel will help to cope with this.
With the help of a special ball, the hero can discard all the mobs around. Also, this item leaves a rainbow behind. A very cool sword from a pony named Rainbow Dash is available to users. It allows players to hit everything around with a lightning strike.
Another item will give players the ability to levitate, a trident from Rarity will make the nearest mobs fly in the air.
Equestria
The incredibly popular currently animated series about rainbow ponies has millions of fans around the world. Equestria is a city in which, in addition to these animals, there are other different fairy–tale creatures: griffins, dragons, and others.
With this update for My Little Pony Map, every Minecraft PE user can get into this amazing world and go on a journey through it. Many different adventures and incredible events await players on the way.
They will meet Apple Jack Farm, the famous Ponyville, a Library, and a Sugar Corner. The atmosphere of my favorite animated series is completely transferred to the cubic world, it looks incredibly fabulous and beautiful.
How to install a map for Minecraft PE?

In order to install the map, you need to move it to the address games/com.mojang/minecraftWorlds.

How are maps installed in a ZIP archive in Minecraft PE?

First of all, you need to unzip the file, then move it to games/com.mojang/minecraftWorlds/.

How are maps with the .mcworld extension installed in Minecraft PE?

After you download the file, run it. The map is automatically imported into the game.
Download My Little Pony Map for Minecraft PE