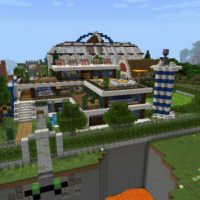 Redstone House Map for Minecraft PE
Version MCPE: 1.2.0 - 1.20.31
Download
Download Redstone House Map for Minecraft PE: visit unique buildings in which all processes are mechanized.
What is new in Redstone House Map?
Redstone House Map represents several variants of houses in which many ordinary processes are mechanized and occur automatically without the participation of the player. It can be very convenient and also incredibly interesting.
The buildings are completely ready for living, ready to accept new owners. But besides this, the territory that surrounds the mansions is also wonderfully equipped.
Minecraft PE players will be able to appreciate how talented the whole process of using combinations is, which is always based on the capabilities of Redstone.
Smart Home
The developers of this update for Redstone House Map have come up with a whole adventure that Minecraft PE players have to go through to get inside a unique house. As soon as the hero gets on the map, he is asked to cope with several tasks.
It is worth being careful not to fall into the trap. In this location, even the smallest detail is thought out to make the stay of the players as interesting as possible.
Mansion
This update for Redstone House Map is not just a house, but a whole complex of various buildings. A distinctive feature of which is the use of a whole system of mechanisms.
Minecraft PE players will be able to visit greenhouses where watering is completely automatic. Stables, a lighthouse, a helicopter and even a real rocket launcher are also available for visiting. It is worth noting that this location is suitable both for self-study and for playing with friends.
For all those who dreamed of having routine processes performed by themselves, this wonderful update will do. In addition to convenience, this mansion is also very stylishly and beautifully equipped, so that players are not only comfortable, but also pleasant to be in it.
How to download Redstone House Map?

Tap the file and open it in Minecraft PE.

Can I use this map with my friends?

Yes, the map can be used for a multiplayer game.

Can i use the map in the survival mode?

Yes, the map is suitable for the survival mode.
download anchor
Download Redstone House Map for Minecraft PE