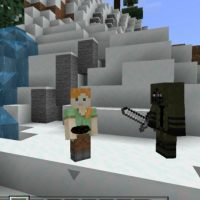 Raiders Mod for Minecraft PE
Version MCPE: 1.19.0 - 1.20.32
Download
Download Raiders Mod for Minecraft PE: fight new dangerous opponents, and call on your allies to help you with a special transmitter.
What is interesting in Raiders Mod?
You can diversify the gameplay in Minecraft PE in different ways and one of the ways is to add new enemies with which the brave heroes of the cubic world will have to fight. This is exactly what the author of Raiders Mod did, and thanks to his efforts, users can evaluate unusual items and assess their strength in battle with dangerous opponents.
In total, after installing this update, there will be two options and they will spawn throughout the territory. With the help of a special device, the heroes will be able to bring to their aid quite strong and well-equipped allies who will help deal with new enemies.
Enemies
All the aggressive creatures that the Raiders Mod adds to the game are Archers. These mobs attack from a distance and can do it as unexpectedly as possible. The second type of enemy for Minecraft PE players is Raiders.
These creatures look like soldiers or ninjas, their faces are completely hidden and only their eyes are visible. They are dressed in a kind of military uniform and armed with an Iron sword. It will be useful for users to know that the health of all these characters is equal to 20 units.
Allies
The author of Raiders Mod also made sure that Minecraft PE players had reliable defenders in the process of fighting new opponents. Thus, to summon them, you will need a special item – a Transmitter.
By the way, its recharge lasts 100 seconds. With his help, Mercenaries will appear in the cubic world. They also have health equal to 20 units, but they are armed with Netherite swords.
At the same time, even considering that they are neutral to the player, you do not need to try to attack them, the hero may die from this.
How do I install this Raiders Mod?

The file is in .mcaddon extension, so just tap on the file to automatically install the modification.

Can this mod be run in a multiplayer game?

Yes, for this it is enough just to be the owner of the map and install this modification on it.

What if the mod does not work?

Try to activate the experimental game mode.
download anchor
Download Raiders Mod for Minecraft PE