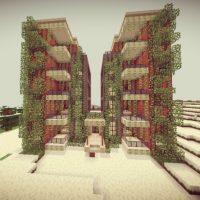 Post Apocalyptic Structures Mod for Minecraft PE
Version MCPE: 1.19.0 - 1.20.32
Download
Download Post Apocalyptic Structures Mod for Minecraft PE: get the opportunity to use a wide variety of abandoned buildings and other urban objects in the gameplay.
Post-Apocalyptic Structures Mod
The theme of adventures in a world that survived the apocalypse is widely used in a wide variety of works. There are many games in this subject and, of course, new additions are constantly appearing for Minecraft PE.
The author of the Post Apocalyptic Structures Mod has created several buildings and urban transport that are designed in this style. The blocks and textures used create the impression of completely abandoned objects and set players up for the right atmosphere.
Textures and blocks
In the process of creating the Post Apocalyptic Structures Mod, the most frequently used blocks in the construction of Minecraft PE were used. At the same time, they were also supplemented with plants similar to lianas.
The fact is that in the event of any technogenic or other incident. As a result of which people will be forced to leave the city, gradually all the free space will be occupied by plants.
Such cases have already happened in ancient and modern history, so many creations look very realistic in the cubic world.
Building
In total, the Post Apocalyptic Structures Mod features five buildings, each of which can be found in almost any modern city. Firstly, it is a high-rise building, as well as a school, a hospital, and a police station.
By the way, a military camp will appear in Minecraft PE, without which no such story can do.
Transport
It is worth noting that all the transport presented in the Post Apocalyptic Structures Mod has only decorative use and cannot be used for its intended purpose.
This is obvious, because, in the event of such events, the equipment may fail. Thus, Minecraft PE players will have access to explore a helicopter, a police car, a truck, and other options for urban transport.
How do I install this Post-Apocalyptic Structures Mod?

The file is in .mcaddon extension, so just tap on the file to automatically install the modification.

Can this mod be run in a multiplayer game?

Yes, for this it is enough just to be the owner of the map and install this modification on it.

What if the mod does not work?

Try to activate the experimental game mode.
download anchor
Download Post-Apocalyptic Structures Mod for Minecraft PE