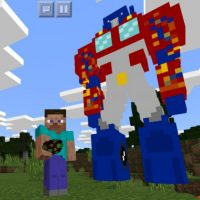 Transformers Mod for Minecraft PE
Version MCPE: 1.4.0 - 1.20.41
Download
Download Transformers Mod for Minecraft PE: watch the battle of alien robots that will now appear in the cubic world, replacing the standard mobs.
What is new in Transformers Mod?
The story of the eternal confrontation between Autobots and Decepticons has many fans all over the world. A huge number of cartoons, comics, and films on this topic have been created. And, of course, the world of Minecraft PE could not stay away.
By installing Transformers Mod, players will replace standard mobs with characters from the famous franchise. As in the original story, they will fight a continuous battle among themselves.
Characters
First of all, it is worth noting that Transformers Mod does not add new creatures to the game. Characters from the famous story will replace the standard Minecraft PE mobs.
Thus, having gone to the village, players will not meet the usual iron golem there, his place will be taken by the brave Optimus Prime. The leader of the Autobots can get into a red-and-blue truck that replaced the witch.
By the way, players can move around the territory using the Ride button on it. You will also need a carrot on a stick to move.
Dangers
The main enemy of all Autobots is the ruthless Blackout and he will replace the familiar creeper in Transformers Mod. This creature will attack Steve and Optimus. And it will also be able to turn into a helicopter.
This means of transportation in Minecraft PE will replace Blaze. Eternal enemies will constantly fight among themselves until one of them dies.
Features
All these creatures in Transformers Mod will spawn freely throughout the territory, so players should be careful when moving and avoid meeting a new dangerous enemy.
In the Creative Mode of Minecraft PE, the characters of the famous story can be summoned using summoning eggs. Only to create an Optimus, you will need to create a structure of carrots and four blocks of iron.
How do I install this Transformers Mod?

The file is in .mcaddon extension, so just tap on the file to automatically install the modification.

Can this mod be run in a multiplayer game?

Yes, for this it is enough just to be the owner of the card and install this modification on it.

What if the mod does not work?

Try to activate the experimental game mode.
Download Transformers Mod for Minecraft PE