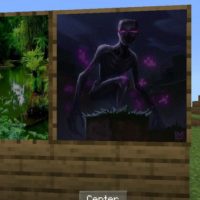 Paintings Mod for Minecraft PE
Version MCPE: 1.19.0 - 1.20.15
Download
Download Paintings Mod for Minecraft PE: use new items to decorate the interior, as well as appreciate the unique features.
What is interesting in Paintings Mod?
In Minecraft PE, players are engaged not only in the construction or extraction of food and valuable resources but also in decorating the interior of their homes. It is much more pleasant to return to a beautiful and cozy home after a long and difficult day.
That is why the authors of Paintings Mod created this update. Not only have they added several new items to the game, but they also offer players to appreciate the unusual mechanics of using them.
Paintings
It is worth noting that the paintings that Minecraft PE players are invited to use have almost universal drawings. They will fit seamlessly into any interior and will undoubtedly become its main decoration.
For example, an image of a forest and a starry sky, beautiful nature, or an ancient city. And for fans of horror-themed Paintings Mod has a portrait of a creepy monster.
By the way, the size of the picture is randomly selected during its installation. Therefore, it is worth taking care of enough free space in advance.
Functions
In total, the Paintings Mod presents four new features that will be available to Minecraft PE players after its installation. For example, centering aligns the position of the painting.
Pick up a redstone, sit down, and interact with the object to turn on the sliding mode, they will change every 10 seconds.
Another interesting and useful feature is the addition of lighting. The mechanics are the same as in the previous case, but you need to keep the glowing powder. To replace the image, it is enough to hit it.
All this will not only update the appearance of the premises but also surprise friends with new features. Create your own space, fill it with unique things, and enjoy the gameplay.
How do I install this Paintings Mod?

The file is in .mcaddon extension, so just tap on the file to automatically install the modification.

Can this mod be run in a multiplayer game?

Yes, for this it is enough just to be the owner of the map and install this modification on it.

What if the mod does not work?

Try to activate the experimental game mode.
download anchor
Download Paintings Mod for Minecraft PE