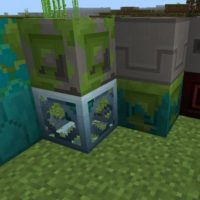 Legends Mod for Minecraft PE
Version MCPE: 1.19.0 - 1.19.83
Download
Download Legends Mod for Minecraft PE: decorate the space around and create beautiful buildings with the help of updated blocks that have been transformed beyond recognition.
What is interesting in Legends Mod?
Standard blocks such as stone and others have not changed since their appearance in Minecraft PE. At the same time, many players would like to build from more beautiful and unusual options.
Therefore, the authors of Legends Mod decided to transform the standard set that absolutely every user uses and improve the appearance of ready-made buildings.
Main Features
The main feature of Legends Mod is not only a large variety of updated blocks, but this also plays a very important role in the gameplay.
The fact is that the update has very simple mechanics of use, thereby making it available to a large number of Minecraft PE users. This will significantly expand the possibilities in the construction of all kinds of buildings.
Variants
Players can get access to all the options for new blocks in the Inventory of the Creative mode Minecraft PE or using the command /give @a f:bl and then select from the suggested list.
By the way, primarily received the largest number of new interpretations in Legends Mod. It has long been familiar to users and has a memorable texture with cracks. But now it will get a lot more use cases.
How to create blocks?
To get new and rather rare resources in Legends Mod, players will have to go in search of a Prismarine. Players will also need the most ordinary stone, and Nether Blocks for creating objects from another dimension.
Minecraft PE players will have new items at their disposal that will undoubtedly make any structure majestic and distinctive. To make the gameplay even more interesting right now, install this update. Surprise your friends with new opportunities in construction.
How do I install this Legends Mod?

The file is in .mcaddon extension, so just tap on the file to automatically install the modification.

Can this mod be run in a multiplayer game?

Yes, for this it is enough just to be the owner of the map and install this modification on it.

What if the mod does not work?

Try to activate the experimental game mode.
Download Legends Mod for Minecraft PE