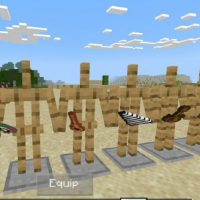 Vanilla Instruments Mod for Minecraft PE
Version MCPE: 1.17.0 - 1.19.83
Download
Download Vanilla Instruments Mod for Minecraft PE: invite friends to create a music group together and use special items to play, and have a lot of happy times.
What is interesting in Vanilla Instruments Mod?
The world of Minecraft PE is so multifaceted and for players, there are a large number of very diverse areas from construction to archaeology. The authors of Vanilla Instruments Mod offer users to create their group of musicians.
This update features sixteen instruments, as well as several unusual items that will help adjust the sound. Users can also use a new block to create all the items. This will allow users to show their creativity and do interesting and unusual things.
Instruments
Thanks to the efforts of the author of Vanilla Instruments Mod, sixteen new items will appear in the block space. All of them are musical tools and, accordingly, various melodies can be played on them.
After loading the world in Minecraft PE, enter the special command /function music_reset. This must be done so that they can play sound. Choose a piano, flute, drum, or guitar. Be sure to invite friends to create a real group together. Discover the wonderful world of music and arrange concerts in the cubic space and have a lot of fun.
Items and unique block
To get new items, players will need to craft a special music block. Or find them in the Inventory of the Creative mode of Minecraft PE.  Also, the author of Vanilla Instruments Mod has added three unusual objects to the cubic world that will help in sound reproduction.
Tuner changes the pitch by one of several octaves. By the way, there are two Guides: the First will show which note is selected, and the Note will indicate how to direct them. Experiment with the sound of various objects, find out what each has features, and make the gameplay exciting and unusual.
How do I install this Vanilla Instruments Mod?

The file is in .mcaddon extension, so just tap on the file to automatically install the modification.

Can this mod be run in a multiplayer game?

Yes, for this it is enough just to be the owner of the map and install this modification on it.

What if the mod does not work?

Try to activate the experimental game mode.
Download Vanilla Instruments Mod for Minecraft PE