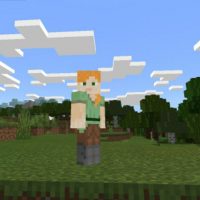 Floating Text Mod for Minecraft PE
Version MCPE: 1.161.0 - 1.20.32
Download
Download Floating Text Mod for Minecraft PE: use the newest and most unusual features that will make the gameplay even more interesting.
What is interesting in Floating Text Mod?
In each Minecraft PE update, developers try to transform the game process in one way or another and make it even more exciting or unusual. But at the same time, such changes are not enough to transform it completely.
Therefore, the authors of Floating Text Mod decided to add a completely new feature that has incredibly wide possibilities of use, both during the game and during the creation of all kinds of maps or other add-ons. Post a greeting or make fun of your friends.
Commands
The mechanics of using this update for Floating Text Mod is as simple as possible. And by the way, there will be only two options for getting flying or floating words. The first option is to find a new tag in the Inventory of the Creative Mode of Minecraft PE.
Just change its name in the anvil to the right words. The second option is to enter the command /summon ad:floating_text ~ ~ ~add: and then enter everything you want to tell others.
Decorate the surrounding space or post important information – everything is possible thanks to this update. Almost limitless possibilities are now opening up to every player.
Menu
The new custom menu will be available to players after installing this update for Floating Text Mod. It will be possible to control the position of the text, change settings and, of course, enter the message itself.
The authors also provided for the possibility of searching for phrases already posted in Minecraft PE, according to the words that were used there. This is very convenient if you need to change or delete something.
Choose exactly the option that you want to manage at the moment and edit it. The usage mechanism is very simple and accessible to every user.
How do I install this Foating Text Mod?

The file is in .mcaddon extension, so just tap on the file to automatically install the modification.

Can this mod be run in a multiplayer game?

Yes, for this it is enough just to be the owner of the map and install this modification on it.

What if the mod does not work?

Try to activate the experimental game mode.
Download Mod for Minecraft PE