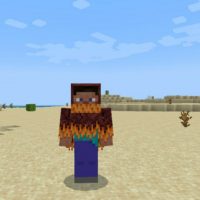 Mantle Mod for Minecraft PE
Version MCPE: 1.19.0 - 1.20.31
Download
Download Mantle Mod for Minecraft PE: use new types of equipment that will give the player special effects and make him stronger.
What is unique in Mantle Mod?
There are various types of equipment in Minecraft PE, mostly armor elements. Some of them are very durable, others give less protection. The authors of Mantle Mod offer a completely new type of clothing for the player.
Seventeen new variants will appear in the Inventory of the Creative Mode, each of which has not only a unique appearance but also gives the hero certain abilities.
Mantle Options
There are only 2 ways to get new items of clothing. In survival mode, any of them can be crafted, and in Creativity, it is enough to open the Inventory. It is worth noting that all the options that will be available to the Minecraft PE player have low strength.
At the same time, wearing them, he will receive various incredible abilities that will certainly help in any battle. Mantle Mod offers to evaluate each of them:
fire mastery – gives fire resistance;
prismarine – gives the power of the conductor;
golden fleece – infinite health;
pacifist – the hero will be invincible until her durability runs out;
vaulting – gives the ability to jump high;
shulker shot – levitation effect.
It is worth noting that all the robes have unique textures and an incredible appearance, put any of them on the head of the hero and it will cover him almost completely. Because these items are made of fabric, they can quickly deteriorate, so hurry up to use their powers.
Interesting features
There has never been anything like this in the world of Minecraft PE, and this time, together with Mantle Mod, the heroes will have a chance to surprise others with an unusual appearance and incredible skills.
At the same time, not only on land but also underwater. The wet mantle gives the player the ability to breathe underwater without other devices.
How do I install this Mantle Mod?

The file is in .mcaddon extension, so just tap on the file to automatically install the modification.

Can this mod be run in a multiplayer game?

Yes, for this it is enough just to be the owner of the card and install this modification on it.

What if the mod doesn't work?

Try to activate the experimental game mode.
download anchor
Download Mantle Mod for Minecraft PE