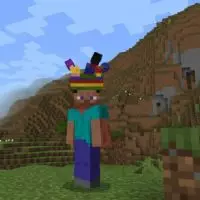 Hat Mod for Minecraft PE
Version MCPE: 1.14.0 - 1.20.31
Download
Download Hats Mod for Minecraft PE: decorate the hero with various wardrobe items and even get unique abilities thanks to them.
What is interesting in Hats Mod?
These accessories have always been considered a sign of excellent taste, Hats Mod will add many new options. As you know, in Minecraft PE there are only helmets that are useful except on the battlefield, but they will not be able to emphasize the unique appearance of the hero in any way.
With this add-on, users will have a choice of incredible instances, some of which will even give the hero special effects.
Caps and More
To get new items of clothing in Hats Mod, players need to use the command /give @s ashmin1. Heroes will receive not just accessories, but quite functional items with effects.
For example, a miner's helmet will allow you to see in the dark, and a mask will accelerate regeneration. Minecraft PE players can also try on sombreros, glasses, or caps.
Hats
This update differs from all others in its scale and large number of options. The authors of Hats Mod have prepared very unusual accessories for the players. For example, they can try on a hat in the form of Steve or Alex, as well as different glasses, headphones, and helmets.
This is a great opportunity to diversify the gameplay in Minecraft PE and make the image of your player unique.
To create new items in survival mode, put a leather helmet in a stone cutter or just find everything you need in the Inventory of Creative Mode.
Many Options
This time, the developers have prepared for the players not only the most unusual accessories but also themed specifically for Halloween. It is worth noting that Hats Mod offers 24 options at once.
Every Minecraft PE user will be able to find a suitable option for himself and make his image truly memorable. The authors also clarify that any of the proposed hats have protective functions.
How do I install this mod?

The file is in .mcaddon extension, so just tap on the file to automatically install the modification.

Can this mod be run in a multiplayer game?

Yes, for this it is enough just to be the owner of the card and install this modification on it.

What if the mod doesn't work?

Try to activate the experimental game mode.
download anchor
Download Hat Mod for Minecraft PE