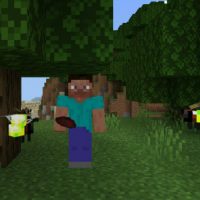 Fireflies Mod for Minecraft PE
Version MCPE: 1.14.0 - 1.20.32
Download
Download Fireflies Mod for Minecraft PE: do not be afraid of the dark, because these little insects can illuminate even the darkest spaces.
What is new in the Fireflies Mod?
Not every insect can be useful to Minecraft PE players. On the contrary, many of them are useless, and some are even dangerous. The creatures that Fireflies Mod adds will be needed at night because they can illuminate space.
In addition to them, other small creatures will appear in the cubic world, some of which the player should be afraid of.
Fireflies
To meet these little creatures, Minecraft PE players will need to go to dark caves or use the Summoning Egg from the Creative Mode Inventory.
These insects are very easy to tame, it is enough to feed them and they will certainly follow the player everywhere. By the way, the creatures that Fireflies Mod adds will inform the player about the approaching monster.
At this moment, the fireflies will shake and make sounds, thereby helping the hero to prepare or hide.
More Items
In this update for Fireflies Mod, the authors have added several special items besides the insects themselves. They will come in handy to catch the creatures.
In the future, it will be possible to use such a jar as a lantern. Go in search of fireflies in mangrove swamps or plains, they can also be found in other biomes of Minecraft PE.
Now it will be much more convenient to explore underground territories and mines. Players can also create a more cozy atmosphere in the dark.
Different Insects
Even more diverse insects will appear in Minecraft PE, thanks to this addition. The authors suggest that players diversify the gameplay with the appearance of mosquitoes, dragonflies, and even flies.
Be careful, because not all creatures from Fireflies Mod are safe for players, and some of them can take health.
How do I install this Fireflies Mod?

The file is in .mcaddon extension, so just tap on the file to automatically install the modification.

Can this mod be run in a multiplayer game?

Yes, for this it is enough just to be the owner of the map and install this modification on it.

What if the mod does not work?

Try to activate the experimental game mode.
download anchor
Download Fireflies Mod for Minecraft PE