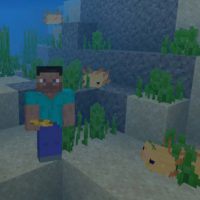 Axolotl Mod for Minecraft PE
Version MCPE: 1.16.0 - 1.19.83
Download
Download Axolotl Mod for Minecraft PE: meet more variants of these harmless and useful animals, tame them and take care of them.
What is interesting in the Axolotl Mod?
These cute creatures differ not only in their unique appearance but also can greatly help the player and protect him from the attack of aggressive mobs underwater. The authors of Axolotl Mod offer players the to evaluate the unique colors for these mobs.
Also, Minecraft PE will have more options for using the capabilities of these incredible creatures.
 Colored
Thanks to the bright coloring of these creatures, they will be easy to find even deep underwater, where sunlight penetrates poorly. Now in Minecraft PE, underwater defenders of the player will appear in gold, red, yellow, and even turquoise.
The main thing to remember for everyone who installs Axolotl Mod is to feed their pets in time and then they will certainly respond with care and attention.
More Variants
This time the authors decided to create even more variants of various colors for axolotls. These creatures live mostly underwater and will protect the player from Drowned and Guardians.
It is worth noting that, unlike Minecraft PE heroes, they do not receive damage from the attacks of these aggressive creatures. Thanks to the Axolotl Mod, players will have powerful protection at any time.
Tameable
This time, three different varieties of these creatures will appear in Minecraft PE at once. The friendliest are domestic individuals, they are always ready to defend the player. In addition to them, wild specimens can also be found in the cubic world.
To tame them, it is enough to share fish with them. The third option is mutated. They can also be made manually, but this will already require a mutant fish. The authors of Axolotl Mod have tried to make interaction with all of them interesting, unusual, and fascinating.
How do I install this Axolotl Mod?

The file is in .mcaddon extension, so just tap on the file to automatically install the modification.

Can this mod be run in a multiplayer game?

Yes, for this it is enough just to be the owner of the map and install this modification on it.

What if the mod does not work?

Try to activate the experimental game mode.
Download Axolotl Mod for Minecraft PE