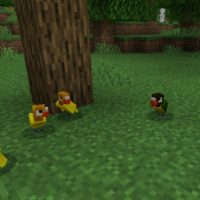 Domestic Pets Mod for Minecraft PE
Version MCPE: 1.0.0 - 1.19.83
Download
Download Domestic Pets Mod for Minecraft PE: try to tame one of the new inhabitants of the cubic world and, if successful, get a loyal friend and assistant.
What is new in the Domestic Pets Mod?
The authors of Domestic Pets Mod offer players to get a faithful companion on all journeys. Choose for yourself an animal that will delight with its appearance, such as a goldfish, or even be able to protect from attack.
A dog is perfect for such purposes. Take care of your pet and do not forget to feed him. Now the world of Minecraft PE will become even more cozy and interesting.
Domestic Pets
After installing this add-on, it will be possible to meet potential pets almost all over the Minecraft PE world. In the reservoirs, players will meet goldfish, it is enough to put them in an aquarium and the cute creature will spin and delight the owner.
On the shore, the heroes may be lucky and they will find aquarium turtles. They are very timid, so be careful not to scare them off.
By the way, the addition for Domestic Pets Mod includes ferrets, hedgehogs and rabbits, and of course dogs. A wide variety of the latter will include breeds from the smallest to fairly large individuals.
Such a pet will protect its owner from enemies, the main thing is to take care of it and monitor its health.
New Friends
In this addition to Domestic Pets Mod, the authors propose to have rabbits, ferrets, and turtles that are quite popular in the real world. And also absolutely exotic versions of animals.
For example, beautiful white birds of the cockatoo breed. To tame them, you will need a music radio. These creatures can also be bred and thus acquire a whole flock of cute birds.
Another unusual pet can be a capybara. Head into the jungle to find these new inhabitants of Minecraft PE. Make a real friend who will accompany his master everywhere.
How do I install this Domestic Pets Mod?

The file is in .mcaddon extension, so just tap on the file to automatically install the modification.

Can this mod be run in a multiplayer game?

Yes, for this it is enough just to be the owner of the map and install this modification on it.

What if the mod does not work?

Try to activate the experimental game mode.
Download Domestic Pets Mod for Minecraft PE