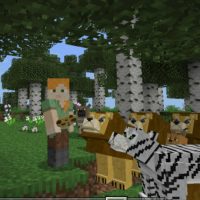 Wild Animals Mod for Minecraft PE
Version MCPE: 1.17.0 - 1.19.83
Download
Download Wild Animals Mod for Minecraft PE: meet new inhabitants of the cubic world from the smallest and most poisonous frogs to huge Asian elephants.
What is new in the Wild Animals Mod?
To complement the diversity of the animal world of Minecraft PE, the authors of Wild Animals Mod offer players. Some of those who appear on the territory of the cubic world can be tamed, while others will be dangerous to the player when they meet.
This addition is a great chance not only to diversify the gameplay but also to learn something new about the most diverse animals that inhabit the planet Earth.
Luis Animals
This addition for Wild Animals Mod includes the appearance of 15 new creatures. They all live in the Amazon in the real world. They are divided, as usual, into hostile and neutral individuals about the player.
The former include jaguars, caiman, anacondas, eagles, and even several species of very poisonous frogs. So after their appearance, the gameplay in Minecraft PE will become much more difficult, because the health reserve of some of them is up to 30 units.
Wild
Various creatures will appear in the most diverse biomes of Minecraft PE after installing Wild Animals Mod. Some of them can be tamed by the player.  For example, you can tame an elephant with a golden bone.
This item can be crafted using 8 gold bars and one bone. This beast can be saddled later and explore the world riding on it. Big cats will be very unusual for taming this time.
Among them are cougars, panthers, lions, leopards, and many others. Using a special saddle, they can also be ridden. Players can also meet giraffes, gorillas, and platypuses on their way.
Tame a monitor lizard, seal, or penguin and they will protect their master from any enemies. The underwater world will also be replenished with new inhabitants, including sharks, killer whales, and dolphins.
How do I install this Wild Animals Mod?

The file is in .mcaddon extension, so just tap on the file to automatically install the modification.

Can this mod be run in a multiplayer game?

Yes, for this it is enough just to be the owner of the map and install this modification on it.

What if the mod does not work?

Try to activate the experimental game mode.
Download Wild Animals Mod for Minecraft PE