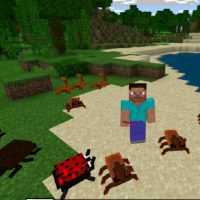 Bugs Mod for Minecraft PE
Version MCPE: 1.14.0 - 1.19.83
Download
Download Bugs Mod for Minecraft PE: meet the little inhabitants of the cubic space and try to tame some of them.
What is interesting in the Bugs Mod?
There are various inhabitants in Minecraft PE, some of them are fictional and can only be found in cubic space. Others are quite real, for example, cows, chickens, or pigs.
But at the same time, you can not meet anyone from the insect squad in the game. The authors of Bugs Mod will add new inhabitants and offer to get acquainted with each of them. Now, walking through the territory, you can meet a fly or a dragonfly and even such dangerous creatures as scorpions and scarabs.
Stick Bug
Diversifying the animal world of Minecraft PE will help this update for Bugs Mod. After its installation, a new insect will appear in all biomes where there is grass. Its dimensions are much larger than in reality.
This creature is safe for players and will just stand and sway from side to side. Nevertheless, for all fans of this species, it will be nice to see it in cubic space.
By the way, the authors also provided a separate summoning egg, so that each player could create a Stick Bug at any time. It is worth noting that the authors have added unusual sounds that players will hear as soon as they approach these creatures.
More Insects
Every player will be able to get acquainted with even more diverse insects after installing this update for Bugs Mod. Among the new inhabitants of Minecraft PE, there will be harmless flies and worms, as well as quite dangerous scorpions and scarabs.
A new spawn egg is provided for each of the creatures in the Creative Mode Inventory. Some of the mobs can be tamed, for example, a ladybug, and then she will fight on the side of the hero.
It is worth noting that the appearance of such unusual inhabitants of the cubic world will greatly help to diversify the gameplay because none of them has previously appeared in the game.
How do I install this Bugs Mod?

The file is in .mcaddon extension, so just tap on the file to automatically install the modification.

Can this mod be run in a multiplayer game?

Yes, for this it is enough just to be the owner of the map and install this modification on it.

What if the mod does not work?

Try to activate the experimental game mode.
Download Bugs Mod for Minecraft PE