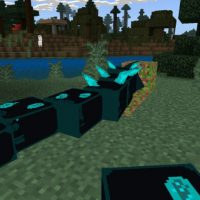 Worm Mod for Minecraft PE
Version MCPE: 1.14.0 - 1.20.32
Download
Download Worm Mod for Minecraft PE: try to resist creepy monsters that will suddenly appear right out of the ground.
What is new in Worm Mod?
There are many dangerous creatures in Minecraft PE, and many players have managed to find out their weaknesses and know exactly how to deal with them.
The authors of Worm Mod offer to try their hand at fighting terrifying monsters. If you defeat them, you can get unusual loot for crafting.
Sand Monster
A walk in a sandy biome will be extremely dangerous for an unprepared player. The fact is that after installing the Worm Mod, a truly terrible monster will appear in these places. Never before in Minecraft PE have players met such a strong opponent.
His health level is 900,000 units, and damage can reach 1,000. Therefore, it is worth taking care of a thoroughly enchanted set of armor before the hero tries his hand at fighting with him. The monster's ability to spawn sand blocks and dunes will complicate the task.
Sculk Worm
Deep underground in Minecraft PE, in addition to the well-known Warden, another extremely dangerous monster now lives. This monster consists of Sculk blocks and glows in the dark. He is distinguished by terrifying strength and excellent health.
Slime flows from its tail, which strikes the player, but does not cause damage. If you cut the mob's head, then the torso will still exude this liquid. But as loot, the player will receive Skulk-Mukus.
In Worm Mod, it is used to craft a shield or helmet. By the way, to avoid possible mistakes, it is not recommended to use items at the same time. The helmet gives the hero the ability to see in the dark.
Tremors
The authors of this add-on for Worm Mod were inspired by films about the attacks of huge underground worms. After installation, at night these monsters will break out of the ground with a terrible roar.
Their bites will cause poisoning in Minecraft PE players. The only way to move so the monster does not find the hero is to sit down.
How do I install this Worm Mod?

The file is in .mcaddon extension, so just tap on the file to automatically install the modification.

Can this mod be run in a multiplayer game?

Yes, for this it is enough just to be the owner of the map and install this modification on it.

What if the mod does not work?

Try to activate the experimental game mode.
download anchor
Download Worm Mod for Minecraft PE