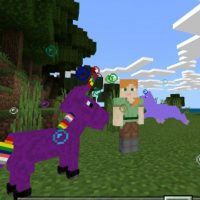 Unicorns Mod for Minecraft PE
Version MCPE: 1.14.0 - 1.20.32
Download
Download Unicorns Mod for Minecraft PE: meet mythical creatures that will create an atmosphere of fairy tales and magic around.
What is new in the Unicorns Mod?
The authors of Unicorns Mod offer to plunge into an incredible world of fabulous adventures. Various mythical creatures will appear in the Minecraft PE world, such as pegasus, fairies, phoenixes, and others.
A carefree mood and eternal fun are provided to everyone who installs this add-on. Travel around the cubic world and meet its new inhabitants right now.
Magic Creatures
The authors of this add-on for Unicorns Mod did not limit themselves to just the appearance of one kind of magical creature. Now, phoenixes, fairies, and goblins will also spawn in Minecraft PE.
Moreover, each species will have its unique dwelling, as well as opportunities to interact with players. For example, it is not necessary to anger wizards, because in case of a threat they can apply magical knowledge.
Horses
If players want to add something new to the standard appearance of animals in Minecraft PE, then this add-on is perfect for this. The fact is that Unicorns Mod changes the appearance of horses.
A longhorn will now be on their head, which will undoubtedly add fabulousness to their appearance and create a magical atmosphere.
Unicorns
This update for Unicorns Mod will allow you to create a festive atmosphere and fairy tales in Minecraft PE. After its installation, three types of mythical animals will appear in the cubic world at once. These are unicorns, pegasus, and alicorns.
All creatures are brightly colored, soap bubbles are always flying around them and the carefree mood will not leave the players for a minute. All the creatures are available for riding, and some can even be flown.
By the way, the authors have added a lot of colorful butterflies that will fly around.
How do I install this Unicorns Mod?

The file is in .mcaddon extension, so just tap on the file to automatically install the modification.

Can this mod be run in a multiplayer game?

Yes, for this it is enough just to be the owner of the map and install this modification on it.

What if the mod does not work?

Try to activate the experimental game mode.
download anchor
Download Unicorns Mod for Minecraft PE