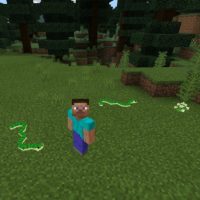 Snakes Mod for Minecraft PE
Version MCPE: 1.2.0 - 1.20.32
Download
Download Snakes Mod for Minecraft PE: be careful when moving around the vast world, because new dangerous creatures can appear at any second.
What is new in Snakes Mod?
Meet the new inhabitants of Minecraft PE, who can be tamed, and then they will be excellent defenders of the player during his travels.
Snakes Mod adds several different variants of these creatures at once, some of which can be very dangerous.
Yellow
The authors of this add-on for Snakes Mod decided to add a new creature to the cubic world. To do this, they replaced the scales with snakes. Now, going to caves or fortresses, you can meet these creatures.
They are neutral towards the player, but if he tries to attack one of them, they will attack in response. The main weapon of these mobs is poison, which after a bite causes a slow and painful death.
It is useful for Minecraft PE heroes to know that by treating these creatures with bones, they can be tamed. After that, they will follow their master everywhere and, if necessary, protect him.
More Animals
This time, 5 types of these reptiles will appear in Minecraft PE at once. After installing the Snakes Mod, they will replace the standard mobs in the Inventory. Players can tame these creatures with raw beef, but it is better to do these manipulations with small individuals because adults are more likely to try to attack.
By the way, in addition to the player, they are aggressive to spiders, rabbits, and chickens. After taming, they will attack anyone who gets closer to the hero than 30 blocks.
Snakes
Moving around the cubic world after installing Snakes Mod will become much more dangerous and it is worth noting that it will not be possible to tame these creatures. There will be 3 variants of new animals in total.
In the jungle, you can meet red snakes, green ones in the forest or savannah, and brown ones will inhabit the desert and swamp biomes of Minecraft PE. These mobs always attack unexpectedly and are not afraid even of iron and snow golems.
And the villagers may even die of fear after seeing one of them.
How do I install this Snakes Mod?

The file is in .mcaddon extension, so just tap on the file to automatically install the modification.

Can this mod be run in a multiplayer game?

Yes, for this it is enough just to be the owner of the map and install this modification on it.

What if the mod does not work?

Try to activate the experimental game mode.
download anchor
Download Snakes Mod for Minecraft PE