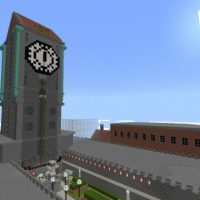 Resident Evil Map for Minecraft PE
Version MCPE: 1.16.0 - 1.20.15
Download
Download Resident Evil Map for Minecraft PE: take a walk through the mysterious areas of the city and explore all its corners, as well as find hidden rooms.
What is interesting in Resident Evil Map?
The author of Resident Evil Map created this update based on the original story. The study of the famous territory has become available to Minecraft PE users.
Thanks to the efforts of the developer, now every hero of the cubic world can arrange incredible adventures. Alone or with friends inside this mysterious settlement. Search for hidden resources and solve mysteries right now.
Unique graphics
It is worth noting the talent of the author of Resident Evil Map. He managed to display in great detail all the main buildings of the original game. The depressing atmosphere and gray buildings give the impression that a creepy zombie can jump out from any corner.
Users will not encounter dangerous creatures, this area intended only for research. But Minecraft PE players can change that. It is possible to do this by adding several monsters. Users should know that this will complicate the process of survival.
Location
Players will find a wide variety of buildings. That is common to each city on the territory of Resident Evil Map. These are residential premises, warehouses, and monuments. And the big city clock on the tower in the center of the settlement.
This location is waiting for its heroes. They will create their most interesting and dangerous adventures in the history of Minecraft PE.
Useful finds
Minecraft PE players who are not attracted to battles will find an interesting activity for themselves here. The authors of Resident Evil Map have placed a wide variety of valuable resources. On this territory, only brave and attentive heroes can find all of them.
Go in search of adventures right now, and let them be remembered for a long time. Be sure to invite your friends to come up with something interesting together.
How to download Resident Evil Map?

Tap the file and open it in Minecraft PE.

Can I use this map with my friends?

Yes, the map can be used for a multiplayer game.

Can i use the map in the survival mode?

Yes, the map is suitable for the survival mode.
download anchor
Download Resident Evil Map for Minecraft PE