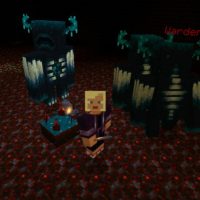 Red Sculk Map for Minecraft PE
Version MCPE: 1.19.0 - 1.20.15
Download
Download Red Sculk Map for Minecraft PE: try to find all the diamonds and don't make any noise, because the Warden crowds are ready to attack anyone who gets in their way.
What is interesting in Red Sculk Map?
The author of the Red Sculk Map warns players that they are waiting for really difficult horror-style trials at this location. The atmosphere of horror will be complemented by frightening sounds and a flashing picture, which will complicate the process of survival.
The location consists of several parts, each of which will be different from the previous one. It is noteworthy that the Sculk blocks on this map turned red for some reason, but Warden retained their usual color for Minecraft PE.
Test stages
At the very beginning of the horror adventure on Red Sculk Map, players will have to find a mysterious cave. To do this, they will have to pass through a dense forest. Complicating the search process will be very densely growing trees to each other, as well as frightening sounds.
In this mysterious forest, Minecraft PE players can meet dangerous creatures. But what awaits them in the second chapter is a truly incredible adventure. It will take place in the parkour style. Climb the stairs to start the task.
Red Cave
It is worth noting that during the tests, players need to look for diamonds. This process will be very difficult and dangerous because the most creepy creatures of Minecraft PE – Warden go everywhere.
But the most dangerous place in Red Sculk Map is a cave located underground. It is there that you can see unique red blocks that can catch the slightest sounds and cause monsters to attack researchers.
Only the bravest heroes will be able to go through all the trials and survive. Be sure to stock up on the best weapons and armor in advance. The authors also forbid destroying blocks and fighting among themselves.
How to download Red Sculk Map?

Tap the file and open it in Minecraft PE.

Can I use this map with my friends?

Yes, the map can be used for a multiplayer game.

Can i use the map in the survival mode?

Yes, the map is suitable for the survival mode.
download anchor
Download Red Sculk Map for Minecraft PE