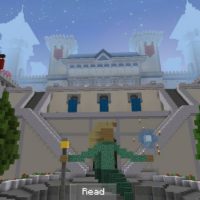 Royal Castles Map for Minecraft PE
Version MCPE: 1.16.0 - 1.20.15
Download
Download Royal Castles Map for Minecraft PE: visit the magnificent medieval kingdom and stroll through the luxurious interior rooms.
What is interesting in Royal Castles Map?
The authors of Royal Castles Map offer to find yourself in a fabulously beautiful place and feel like a real hero of magical adventures. The authors have created an amazing world that has everything you need for exciting adventures.
Every Minecraft PE user can now fully feel like a real medieval king and create exciting adventures. Invite your friends to come up with the most interesting activities together.
Royal Castle
A great option for those looking for a luxury building for role-playing or survival with friends is this update for Royal Castles Map. The authors have fully worked out the entire territory and created a castle in the style of the Middle Ages.
The main materials used during the construction are stone, brick, and wood. Minecraft PE players are invited to visit the courtyard, various buildings, and the throne room.
It is worth noting that the building looks very large-scale and royal.
Kingdom
The huge territory of this update for the Royal Castles Map will allow you to spend the most interesting and exciting time in Minecraft PE. The first thing the hero will see is a large bridge that leads to an amazingly beautiful castle.
Inside you can find many luxurious rooms, libraries, and a throne room. There is a wonderful garden with a fountain around. If you go further, you can walk through the villages and even a small town. Together they create a fabulous kingdom.
This is a great opportunity to make your adventures in the cubic world diverse. It is noteworthy that the most curious heroes can find secret zones inside that are not visible at first glance.
How to download Royal Castles Map?

Tap the file and open it in Minecraft PE.

Can I use this map with my friends?

Yes, the map can be used for a multiplayer game.

Can i use the map in the survival mode?

Yes, the map is suitable for the survival mode.
download anchor
Download Royal Castles Map for Minecraft PE