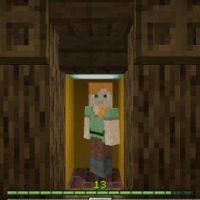 Zoo Map for Minecraft PE
Version MCPE: 1.16.0 - 1.20.41
Download
Download Zoo Map for Minecraft PE: meet amazing animals that are collected in one location, relax in an incredibly peaceful place.
What is interesting in Zoo Map?
With Zoo Map, Minecraft PE users got the opportunity to take a little break from battles and travel to an amazingly beautiful and interesting place.
The fact is that the developers have created a truly unique map, which contains a variety of animals and birds.
Now every player can explore this amazing location and enjoy the beauty and tranquility. A wide variety of animals and birds are waiting for everyone who downloads this update.
Animals
The developers paid special attention to graphics and visual elements. The game space looks amazing. A lot of different aviaries with animals, trees, waterfalls, and paths – everything is very realistic and interesting.
The player will want to explore Zoo Map because it is an incredibly interesting and beautiful place. Animals make sounds and there are really a lot of them. The hero will meet lions, giraffes, camels, crocodiles, and Emu ostriches.
A bird sanctuary will appear in the world of Minecraft PE, and if the user wants to take a break, there is a recreation area.
Main Features
In this update, each element creates a special atmosphere. This is a great place to change the atmosphere and try something new.
The developers have created the most realistic world in Minecraft PE. Zoo Map conveys the atmosphere of a real zoo.
Users will be able to enjoy not only the appearance but also the sounds of animals. The user will hear lions growling or crocodiles making sounds.
By the way, the map is not limited only to this location. Outside the zoo, users can see the usual landscape of the cubic world.
This update is suitable for everyone who wants to visit a wonderful and peaceful place where the hero can just admire the animals and nature around.
How to download Zoo Map?

Tap the file and open it in Minecraft PE.

Can I use this map with my friends?

Yes, the map can be used for a multiplayer game.

Can i use the map in the survival mode?

Yes, the map is suitable for the survival mode.
Download Zoo Map for Minecraft PE