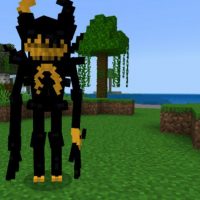 Demon Mod for Minecraft PE
Version MCPE: 1.16.0 - 1.20.15
Download
Download Demon Mod for Minecraft PE: fight terrible monsters that got into the cubic world straight from the popular computer game.
What is unique in Demon Mod?
Developers often combine the world of Minecraft PE with other computer games, movies, or comics. Thus, new items, armor, as well as a large number of even more dangerous and terrible creatures appear in the cubic world.
This is exactly what will happen after installing the Demon Mod. There will be a lot of pretty powerful opponents in the game, with which players will have to fight. New types of weapons created based on the original story will be able to help them in this.
Bendy
A fairly large-scale addition is presented by the authors of the Demon Mod this time. Monsters and stronger and more dangerous bosses will appear in Minecraft PE. Their health will vary from 20 units to 100. By the way, the maximum indicator belongs to a creature named Ink Demon.
Brute Boris and Searcher Boss have slightly fewer health units. They have 400 and 300 units, respectively. A large number of new and extremely dangerous enemies will make the gameplay several times more interesting.
New types of weapons can help in the battle with these creatures. It is an axe and a pipe. You can get them using the command /give @s batim: and then specify the desired option.
Demon Mod
By installing this update, players will be able to meet only one character and this is Ink Demon directly. He can impose the effect of blindness on the Minecraft PE player.
He has 1000 health units, and each of his attacks deals with 9 damage units. Thus, he will sneak up on his victim as unexpectedly as possible and attack at the limit of his capabilities.
An item that can also be found in the Inventory will help to overcome it. The authors of The Demon Mod tried to make the textures of the monster detailed and terrifying to the heroes by just looking at it.
How do I install this Demon Mod?

The file is in .mcaddon extension, so just tap on the file to automatically install the modification.

Can this mod be run in a multiplayer game?

Yes, for this it is enough just to be the owner of the map and install this modification on it.

What if the mod does not work?

Try to activate the experimental game mode.
download anchor
Download Demon Mod for Minecraft PE