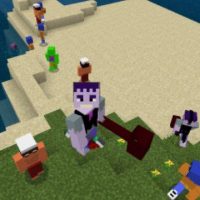 Brawls Stars Mod for Minecraft PE
Version MCPE: 1.14.0 - 1.20.31
Download
Download Brawls Stars Mod for Minecraft PE: update the familiar world by adding new characters to it.
What is interesting in Brawls Stars Mod?
Brawls Stars Mod is based on one of the popular games. In the world of Minecraft PE, players will have the opportunity to combine the cubic world with the world of the famous strategy.
Many inhabitants of Brawl Town will appear in the game and will wander everywhere. By the way, special chips and in-game currency will be available to users. To do this, users must activate the Experimental mode.
Mine Brawls
Brawls Stars Mod combines the best qualities of two games. New characters have received unique features, skins, and even items.
Players also have access to a whole set of functions to transform into the heroes of the famous game. The command /function frank allows Steve to become Frank and get his skills and abilities.
Along with the appearance, the hero will also receive an enhanced blow, a bow, and armor-piercing gloves. This update will appeal not only to fans of the famous game but also to all users who want to add variety to the gameplay.
To win an item, users can use the / function braws command and after that, an opportunity to choose a character will appear in the table that opens.
Mobs
In Brawls Stars Mod for Minecraft PE, developers have added several mobs that look completely like characters from the original game. They have unique features and new items. Users will be able to notice that their images are fully worked out:
Rose with a very original hairstyle;
El Primo in his famous mask;
Green Spike;
Burly, who always looks sad;
Bo – this character is famous for his carelessness.
The update also brings changes to the trading system. Now residents will not ask for emeralds in exchange for their goods. Players will need to have gems and gold for this.
How do I install this mod?

The file is in .mcaddon extension, so just tap on the file to automatically install the modification.

Can this mod be run in a multiplayer game?

Yes, for this it is enough just to be the owner of the card and install this modification on it.

What if the mod doesn't work?

Try to activate the experimental game mode.
download anchor
Download Brawls Stars Mod for Minecraft PE