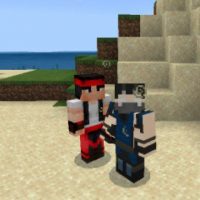 Mortal Kombat Mod for Minecraft PE
Version MCPE: 1.16.0 - 1.19.63
Download
Download Mortal Kombat Mod for Minecraft PE: arrange the coolest fights with new weapons and a large selection of armor.
What is interesting in Mortal Kombat Mod?
Mortal Kombat is a truly legendary computer game that has many fans in the gaming world. It is hard to find a gamer who has not heard of it.
Therefore, it is natural that the developers decided to recreate the atmosphere of deadly battles in the world of Minecraft PE.
Players will have access to a large number of new mobs that almost literally repeat the images of characters from the game. By the way, a large selection of weapons and equipment is available.
Mobs
The developers have tried to recreate all the heroes of the legendary Minecraft PE game, thus making Mortal Kombat Mod incredibly interesting and memorable:
Milina – has strong damage, this girl intimidates the enemy with a super scary face with big teeth;
Noob Saibot – returned to avenge the death of his wife;
Erron Black – works for money and the hero should be afraid because he has pistols;
Liu Kang is a great fighter with huge firepower, his enemies will not have a chance to resist a fight with him.
Armor and weapons
In Mortal Kombat Mod, the hero can not only meet the characters of the game but also reincarnate becoming one of them.
First of all, the most famous character appears in Minecraft PE – Sub-Zero. He has the power of freezing and a frost blade, which also shoots ice arrows.
A fighter named Scorpio, in whose veins fire flows instead of blood causes significant damage to opponents, and his armor is fire-resistant.
The armor of Johnny Cage and Sony Blade are the same in their properties. Give more speed for mining blocks and increase the possibility of jumping.
Mortal Kombat 2
12 more weapon and armor options will add this update to the Minecraft PE world. The player can find them in the Inventory.
Mortal Kombat Mod is a truly unique update for all fans of spectacular battles.
How do I install this mod?

The file is in .mcaddon extension, so just tap on the file to automatically install the modification.

Can this mod be run in a multiplayer game?

Yes, for this it is enough just to be the owner of the card and install this modification on it.

What if the mod doesn't work?

Try to activate the experimental game mode.
Download Mortal Kombat Mod for Minecraft PE