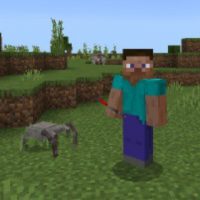 Half-Life Mod for Minecraft PE
Version MCPE: 1.17.0 - 1.20.31
Download
Download Half-Life Mod for Minecraft PE: try to fight and defeat the creepy monsters from the computer game.
What is interesting in Half-Life Mod?
Half-Life Mod is dedicated to one of the most popular games of our time. Famous headcrabs have been added to the cubic world, and to destroy them, the player will need to create a crowbar.
The developers have tried to completely recreate the creepy world in Minecraft PE. Players will definitely not be bored, because headcrabs will not give such an opportunity.
Mobs
In Half-Life Mod, players can meet parasites who have gained fame thanks to Half-Life. Their name is headcrabs and there are several variants of these monsters in the update:
fast – can hide in the sand, effects – nausea;
poisonous – has a dark red hue, its effect is poison;
standard – short brown monster with strong claws;
headcrab legs – drop at the death of this animal, you can cook and eat.
In addition to these creepy monsters, players can meet and fight other creatures in Minecraft PE – these are zombies. They are not afraid of sunlight and appear even during the day. Some of them are very fast, while others will be surrounded by poisonous headcrabs.
Also, the gameplay will be filled with such creatures as the hound-eye – attacks with the help of creepy sounds, boid, vortigont – attacks with fireballs, and G-men. By the way, the latter is a rather mysterious person and no one knows what he needs.
Weapon
In order for the player to be able to fight all the creepy monsters, the developers added weapons to Minecraft PE. In Half-Life Mod, the hero will have access to the famous Gordon Freeman crowbar, which helps him fight off enemies.
It can be crafted from two ingots of iron and wool. Players also have a stun stick available – it is an electric weapon, a little stronger than a crowbar.
Users have access to all unique opportunities to create incredible adventures, fight creepy monsters and get a lot of impressions.
How do I install this mod?

The file is in .mcaddon extension, so just tap on the file to automatically install the modification.

Can this mod be run in a multiplayer game?

Yes, for this it is enough just to be the owner of the card and install this modification on it.

What if the mod doesn't work?

Try to activate the experimental game mode.
download anchor
Download Half Life Mod for Minecraft PE