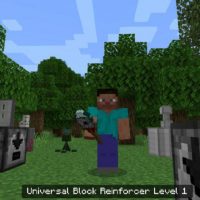 Security Craft Mod for Minecraft PE
Version MCPE: 1.19.0 - 1.20.15
Download
Download Security Craft Mod for Minecraft PE: get the opportunity to secure your home with the most modern and innovative devices.
What is interesting in Security Craft Mod?
One of the most important factors in the survival process in Minecraft PE is security. Dangerous mobs or other players can get inside the dwelling and harm not only the property but also the hero himself.
After installing the Security Craft Mod, players will have at their disposal a large selection of various devices for the protection of buildings and the surrounding area. Use combination locks, special chips, and other gadgets, and sleep peacefully.
Security system
To start using new devices for protection, it is enough to look into the Inventory of the Creative mode of Minecraft PE. Players will have access to a variety of items.
For example, the turret shoots at all mobs except its owner, pets, and villagers. A lightning defender can hit five enemies at once with one blow. Also, after installing the Security Craft Mod, players will have access to the so-called reinforced blocks.
It is almost impossible to destroy them. This can only be done by the player who installed them using a special item to remove them.
Opportunities
There are a lot of options for using these blocks and objects. The fact is that they can be used not only to protect the home but also when creating all kinds of Security Craft Mod authors have created everything necessary to build a protected bunker or a secret base.
For example, Minecraft PE players will have iron doors with a combination lock or a special chip at their disposal. Without which it will be impossible to open them. A padlock will help strengthen the protective functions, it can also be opened only by the hero who installed it.
How do I install this Security Craft Mod?

The file is in .mcaddon extension, so just tap on the file to automatically install the modification.

Can this mod be run in a multiplayer game?

Yes, for this it is enough just to be the owner of the map and install this modification on it.

What if the mod does not work?

Try to activate the experimental game mode.
download anchor
Download Security Craft Mod for Minecraft PE