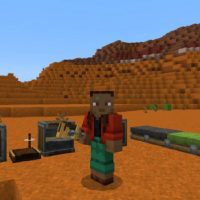 Create Mod for Minecraft PE
Version MCPE: 1.19.0 - 1.20.15
Download
Download Create Mod for Minecraft PE: construct a variety of mechanisms, and use new blocks, devices, and objects for this.
What is interesting in Create Mod?
For all fans of the theme of industrialization, the author offers the possibilities of Create Mod. By installing this update, Minecraft PE players will have a chance to facilitate the gameplay and automate some of its processes.
Mankind has been using the lever, wheel, and other devices for a long time. Now it's time to evaluate their convenience in the cubic world. Combine different objects and create something new and unusual right now. Show your imagination and your abilities in designing.
Device options
In total, Create Mod adds 17 new objects to the game, each of which has a specific practical application. You can find all these items in the Inventory of the Creative Mode of Minecraft PE and immediately start using them.
For example, a steam engine generates rotational force and runs on coal, and a Water wheel will need water under it to perform the same actions. A conveyor will help players transport objects.
With the help of a mechanical saw and drill, you can quickly destroy blocks of stone or wood. Create chains of multiple devices to facilitate the routine process and leave time to rest.
Opportunities
The author of Create Mod took care not only of the variety of mechanisms and their components but also of the comfort of Minecraft PE players. The update features seats in 16 different colors.
With this update, you can create a continuous operation pipeline and even an entire production. Surprise your friends with new opportunities and try to come up with something new and unusual together.
For example, a crusher and compressor can be used for mining and transporting ore, and a gear switch is used in conjunction with a redstone for reverse rotation.
How do I install this Create Mod?

The file is in .mcaddon extension, so just tap on the file to automatically install the modification.

Can this mod be run in a multiplayer game?

Yes, for this it is enough just to be the owner of the map and install this modification on it.

What if the mod does not work?

Try to activate the experimental game mode.
download anchor
Download Create Mod for Minecraft PE