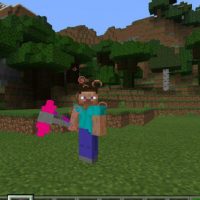 Hammer Mod for Minecraft PE
Version MCPE: 1.14.0 - 1.20.32
Download
Download Hammer Mod for Minecraft PE: evaluate mining tools that can be used not only for mining useful resources but also in battle.
What is interesting in the Hammer Mod?
This add-on offers Minecraft PE players to expand the capabilities of the most common tools. They will appear in a variety of variations and even in 3D format.
For example, from obsidian or lava, as well as red dust and lapis lazuli. By the way, Hammer Mod will improve the capabilities of shovels, scythes, and axes. All these items will certainly be useful to players in the process of searching for resources and, if necessary, will help protect themselves from enemy attacks.
Mining
This Hammer Mod add-on includes the appearance of six new items in Minecraft PE at once. they can be crafted in Survival or obtained with simple commands. It is enough to enter /give @s new and then specify the material from which the new tool will be made.
The strongest is Diamond Hammer because it will immediately add 10 additional units to the Attack. But other options will be very useful for players.
3D
The impressive size of the tools that this Hammer Mod update adds is really impressive. But even more striking will be the effects that the player will get by picking up any of them.
Additional commands to get hammers are not required, all of them will be available after loading in the Inventory of the Creative Mode Minecraft PE.
Hammer Time
The most extensive of all additions. It will allow Minecraft PE players to use not only improved hammers but also shovels, scythes, and axes. They can be made from almost all the materials available in the cubic world.
For example, from lapis lazuli, lava, gold, or even red dust. But not only technical characteristics can please these items players. In Hammer Mod, they will all have unique textures and even shimmer in the sun.
How do I install this Hammer Mod?

The file is in .mcaddon extension, so just tap on the file to automatically install the modification.

Can this mod be run in a multiplayer game?

Yes, for this it is enough just to be the owner of the card and install this modification on it.

What if the mod does not work?

Try to activate the experimental game mode.
download anchor
Download Hammer Mod for Minecraft PE