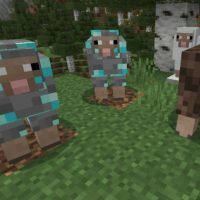 Sheep Mod for Minecraft PE
Version MCPE: 1.19.0 - 1.20.15
Download
Download Sheep Mod for Minecraft PE: meet new inhabitants of the cubic world, learn about their unique abilities, and make friends with them.
What is interesting in Sheep Mod?
There are many different mobs in Minecraft PE, but many users lack variety and new abilities for them. The authors of Sheep Mod decided to diversify the standard set and add new specimens to the already existing individuals.
Some of them have special properties that will allow you to get more useful resources. Others can be dangerous and meeting them does not promise players anything good.
Chubby Sheep
First of all, it is worth noting that along with the new sheep, which have received special properties, after installing Sheep Mod, well-known individuals will spawn. At the same time, new instances will have larger sizes compared to them.
By the way, from them, it will be possible to get from 16 to 23 blocks of wool, which is several times higher than the usual indicators. Players can spawn all mobs on their own, you can find their eggs in the Inventory of the Creative Minecraft PE mode.
In total, this update contains more than ten different creatures, each of which has special abilities and skills. Get to know them right now. Travel all over the territory and meet new creatures.
World Wide Animals
This update for Sheep Mod assumes the appearance of new animals in Minecraft PE in almost all biomes and even underwater. For example, in the taiga, players will meet brown bears. Be careful in case of an attack, and offer honeycombs.
The wildlife is also diversified in the desert, rattlesnakes, jerboa, and fennec will appear there. You can tame a kangaroo with an apple and put a saddle on it, ride a horse. Learn about the peculiarities of each of the new inhabitants of the cubic world and try to make friends with each of them.
How do I install this Sheep Mod?

The file is in .mcaddon extension, so just tap on the file to automatically install the modification.

Can this mod be run in a multiplayer game?

Yes, for this it is enough just to be the owner of the map and install this modification on it.

What if the mod does not work?

Try to activate the experimental game mode.
download anchor
Download Sheep Mod for Minecraft PE