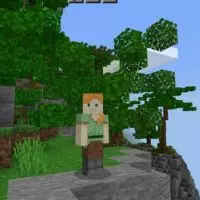 100-Day Adventure Survival Map for Minecraft PE
Version MCPE: 1.18.0 - 1.20.15
Download
Download 100-Day Adventure Survival Map for Minecraft PE: test your strength and try to survive on the island, look for food and resources, and fight enemies.
What is interesting in 100-Day Adventure Survival Map?
The story of survival on a desert island, where the main character is looking for ways to stay alive, and also resists the destructive force of the elements, is very popular among the creators of films, games, and writers.
The authors of the 100-Day Adventure Survival Map offer Minecraft PE players the to feel like Robinson Crusoe and try to survive in conditions where resources are as limited as possible, and nature and enemies are merciless.
Territory
After downloading the 100-Day Adventure Survival Map, the player finds himself all alone on a huge island. But it is only at first glance that he is alone here, he is surrounded by a wide variety of animals, such as pigs, sheep, or chickens.
At night, dangerous mobs are added to them, for example, spiders and zombies. The land is surrounded by an endless ocean, which is also home to the usual underwater creatures for Minecraft PE.
Most of the location is covered with jungle-like forests. The local trees are very tall and vines hang from them, which gives the area a characteristic atmosphere.
Enemies
The 100-Day Adventure Survival Map was not without dangers. First of all, the Minecraft PE player needs to look for food, as well as seek refuge from external factors. It can be rain, thunderstorm, zombies, creepers, or spiders.
Therefore, in the daytime, it is better to not only research the surrounding area. But also search for resources for the construction of a dwelling.
Survival
Although the terrain looks very beautiful and picturesque, players on the 100-Day Adventure Survival Map should not forget that to pass the test, they need to hold out for a hundred days.
This is a great opportunity in Minecraft PE to test your strength and learn something new.
How to download 100-Day Adventure Survival Map?

Tap the file and open it in Minecraft PE.

Can I use this map with my friends?

Yes, the map can be used for a multiplayer game.

Can i use the map in the survival mode?

Yes, the map is suitable for the survival mode.
download anchor
Download 100-Day Adventure Survival Map for Minecraft PE