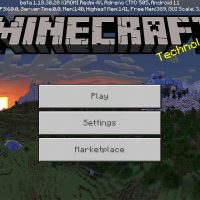 Minecraft PE 1.18.30.20
Download Minecraft PE 1.18
Download
Download Minecraft PE 1.18.30.20 with a working Xbox Live: get froglight blocks, explore updated biomes, and much more!
What's new in Minecraft 1.18.30.20?
The authors from the Mojang team continue to refine the space of the game world with additional elements and details. The Minecraft PE 1.18.30.20 Caves and Cliffs Part 2 version offers players updated biomes and structures, improved mob behavior, and unique blocks.
Froglight
Unique glowing blocks can be obtained in Minecraft 1.18.30.20. The frog light is a decorative block and comes in different colors: green, ochre, and pearl.
The developers have updated the textures of the glowing cubes and fixed a bug that caused the blocks to rotate randomly.
Frogs still inhabit the swamp biomes of the game world. It is thanks to these amphibians that you can get new glowing blocks. To do this, the frog needs to be fed with a magma block. After that, the frog light will fall out of it.
Biomes
The developers have diversified the landscape of Minecraft PE 1.18.30.20 by adding new types of caves and mountain biomes. Stony Peaks remain the highest point among the structures of the cubic world. Players will spend a lot of effort before they reach the top.
Goats can be found in this biome, as well as in the structures located below. As you know, with the help of these mobs, you can get a goat's horn.
A goat drops its horn if it faces a solid block.
Dripstone caves are known for their size and are rich in copper ore, and in Lush caves, you can find unusual beautiful plants.
Other changes
The Mojang team has worked on several more aspects in Minecraft 1.18.30.20. Now the rate of exhaustion from hunger is more consistent with the Java version. In addition, when running and swimming, players correctly lose their hunger.
By the way, Steve's depletion rate can be configured in behavior packages.
What colors a froglight can be?

A froglight can be green, ochre, and pearl.

How to get a goat horn?

A goat drops its horn if it faces a solid block.

What biome is the highest?

Stony Peaks is the highest biome.
Download Minecraft PE 1.18.30.20