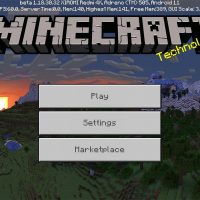 Minecraft PE 1.18.30.32
Download Minecraft PE 1.18
Download
Download Minecraft 1.18.30.32 with a working Xbox Live: explore the endless world, meet Warden, and evaluate the quality of fixed bugs!
What is new in Minecraft 1.18.30.32?
Mojang developers fixed a bug that caused some fragments to become damaged. In this version of Minecraft PE 1.18.30.32, the parts below y = 0 will not be damaged.
But any previously damaged chunk will return to its original state.
Experimental functions
In this update, features are available that are at the stage of completion but are already available to Minecraft 1.18.30.32 players. These are, for example, Goat and Copper Horn.
Quite interesting and unusual items that players can use right now. It is worth noting that for the extraction of the Copper Horn, three copper ingots will be required, and the Goat horn should be in the middle.
The sounds of a horn are different for each goat. It is possible to get this item when the animal hits the blocks.
Mobs
The developers have also fixed some bugs related to mobs in Minecraft PE 1.18.30.32. For example, large creatures will not get stuck on maps.
Warden
The developers added a terrible monster, Warden, to Minecraft 1.18.30.32. The creature has a big size and attacks every mob nearby, including Steve.
Allay
Also, Allay can become a wonderful assistant in adventures. If you give him an item, the mob will follow the player in Minecraft PE 1.18.30.32.
By the way, if Allay already has items in his inventory, he can try to give them to the hero. These useful features can be used in the game right now.
Biomes
If the player wants to make the game process really memorable, then the Deep Dark biome is the best fit.
This is one of the darkest spaces in Minecraft 1.18.30.32. In order to find this place, you will have to dig deep enough. Beware of the Warden, who inhabits this creepy place.
Items
A boat with a chest can help the hero in his adventures. You can create it by combining these two items.
The developers added this item to Minecraft PE 1.18.30.32 so that the heroes could travel on water and at the same time take their things with them.
How to get a Copper Horn?

It is crafted using three Copper Ingots in a "v shape" with a Goat Horn in the middle.

How to get a Goat Horn?

It is always dropped when a Goat with at least one horn rams the blocks.

What biome is the darkest?

Deep Dark is the darkest biome.
Download Minecraft PE 1.18.30.32