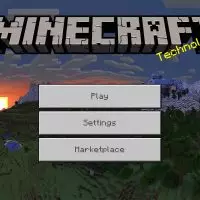 Minecraft PE 1.18.32
Download Minecraft PE 1.18
Download
Download Minecraft PE 1.18.32 release with a working Xbox Live: explore structures with valuable resources, get froglight blocks, and much more!
Minecraft 1.18.32 Release
Mojang Studios continues improving the space of the block world, adding details and correcting critical errors.
Minecraft PE 1.18.32 Caves and Cliffs Part 2 Update brings structures with valuable resources, unusual blocks, and other stuff.
Warden
The most creepy and terrible mob, which all the inhabitants of Deep Dark Biome are afraid of, gets new features in each update. The developers of Mojang Studios are trying to make his image more and more scary and complex.
In Minecraft PE 1.18.32, this creature has some new features – now he will be angry at everyone who touches him. This monster finds a victim by vibrations, so if the player sees that he is approaching, it is better to hide. It is enough to wait only 60 seconds and you can continue moving.
With the help of its unique abilities, this creature can find a victim even in complete darkness.
Biomes
The natural landscape of Minecraft 1.18.32 is rich and diverse, thanks to the added biomes in the vicinity of mountains and caves. Developers, adding new locations, try to do it as organically as possible so that the territories fit into the existing space of the game.
If we talk about mountain structures, Stony peaks are located above the rest. On the territory of this biome, there are goats with horns, which can be useful to players.
To get the horn, a goat must collide with a hard block.
Players in search of resources should visit the Dripstone caves. There is a lot of copper ore and many other blocks.
In the Lush Caves, there is a lot of outlandish vegetation.
Blocks
These unusual glowing blocks are available in Minecraft PE 1.18.32. The froglight has no practical use but is a beautiful block for decoration. It can be in different shades: green, ochre, and purple.
After updating the textures, the glowing blocks began to look even more attractive.
Swamp biomes of the game world are inhabited by amphibians, frogs, and tadpoles. With the help of frogs, you can get a froglight. At first, you will need to feed the creature with magma to get the block.
Other changes
The developers of Mojang were able to make adjustments to the gameplay by creating the Minecraft 1.18.32 update. Now players can place frames on those blocks with which errors previously occurred.
Bugs related to the passage of mobs through doors have been fixed.
How to get a froglight?

Player needs to feed the creature with magma to get the block.

What colors froglight can be?

It can be green, ochre, and purple.

What biome is the highest?

Stony Peaks is the highest biome.
Download Minecraft PE 1.18.32