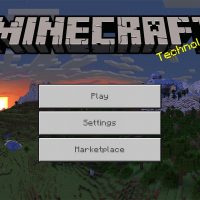 Minecraft PE 1.19.80
Trails & Tales Update (Release)
Download
Download Minecraft PE 1.19.80 Release free with a working Xbox Live: watch the Sniffer, which in addition to Torchflower can now find seeds and other plants.
Minecraft 1.19.80 Trails & Tales Update
For the gameplay to retain its uniqueness and always attract the attention of as many users as possible. Developers are constantly supplementing the cubic world with new items or improving existing ones.
For example, in Minecraft PE 1.19.80 Release, there is no need to use Sneaking for Hanging Signs placements, textures and sounds for these objects have also been updated.
Historical finds
Now, every user can feel like a fearless adventurer and, like the heroes of the movies, go to the excavations. It is enough to craft a Brush for yourself and head to those locations of the cubic world where you can find Suspicious sand or gravel.
When these blocks are discovered, you can start cleaning them and getting fragments of an ancient vase. By the way, the soundtrack for this process has been updated in Minecraft 1.19.80.
New features
Among the new features in Minecraft PE 1.19.80, players can also note the use of Templates to decorate equipment with various drawings.
This fascinating process will allow the heroes to create the unique image that will set them apart on the battlefield. By the way, this way you can change all the equipment elements.
Sniffer
The absolutely amazing and quite useful creature, helps players to find the seeds of rare plants. It is worth noting that the Sniffer does this unintentionally. He is just looking for food, and the player, in turn, can follow him and collect invaluable material.
In the future, in Minecraft 1.19.80, you can grow flowers such as Torchflower – used for breeding these mobs, or Pitcher – a very beautiful and unusual plant. Use all the new features to make the gameplay interesting and exciting.
What kind of plant seeds can a Sniffer find?

In Minecraft PE 1.19.80, these are Torchflower and Pitcher.

What are the Templates in MCPE 1.19.80 for?

To decorate armor with drawings.

Where is the Brush used?
Download Minecraft PE 1.19.80