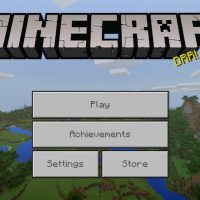 Minecraft PE 1.2.9
Download Minecraft PE 1.2.9
Download
Download Minecraft 1.2.9 full version with working Xbox Live for Android, and start your survival from the canyon!
Minecraft 1.2.9 – What's New?
In this version, the Mojang developers have fixed many bugs. But the most interesting thing is a large number of innovations. Various blocks and objects, as well as a parrot, appeared in the game. Do not forget about the new location called the canyon.
The main
These innovations will mainly appeal to newbies and map builders in Minecraft 1.2.9. The game now has a tutorial and even a recipe book. In addition, there are new parameters of the world that can be adjusted.
For example, you can turn off the cycle of day and night, the spread of fire, or even the explosion of dynamite. With a bonus chest, surviving in the early stages will become much more enjoyable.
Blocks
Several blocks were added to Minecraft 1.2.9 at once. The jukebox deserves special attention. With it, you can listen to music in the game by playing records. This block can be obtained even in survival mode. This requires only eight planks and one diamond. To play music, you need to install a special resource pack from the store.
Items
Plates, rockets, a book with a quill, an armor rack – all of this appeared in Minecraft 1.2.9. First of all, it should be noted that various effects can appear during missile explosions. It depends on the star the rocket contains.
Also worth mentioning is the book with the pen. With the help of this item, the player will be able to record various information. It is not recommended to hit the armor stance as it is very fragile.
Other fixes
As mentioned earlier, in Minecraft Bedrock 1.2.9, the developers have fixed many bugs and made some changes.
creepers stop moving before the explosion;
blocks can be placed while squatting;
animals can follow the player on uneven terrain;
text entry in the plate does not continue on the first line after switching to a new one.
How can I tame a parrot?

Is it possible to somehow craft records? in Minecraft 1.2.9

No. They can only be found in various structures.

What is a building block for?

It is mainly needed by map builders and developers. With its help, you can speed up construction at times.
download anchor
Minecraft 1.2.9 Download