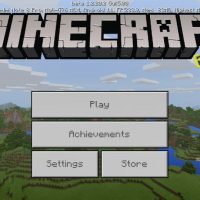 Minecraft PE 1.2.20.2
Download Minecraft PE 1.2.20.2
Download
Download Minecraft 1.2.20.2 full version with working Xbox Live for Android, and explore new underwater kelp plants!
Minecraft 1.2.20.2: Aquatic Update
From the amazing new products, one can single out that in Minecraft 1.2.20.2, the textures of dolphins were updated, and in general, their models were changed. Also, sounds were added to them. Thanks to this, it is now easy to navigate and know that a group of neutral mobs is swimming near you.
They also redesigned the heart of the sea and the nautilus shell. In general, the update is not too large-scale and is more focused on fixing serious bugs. So, the developers of Mojang Studios have fixed a whole 21 bugs.
Dolphins
Another mob in Minecraft PE 1.2.20.2. By their nature, dolphins are neutral, which means that they can become a real threat to the player. So, their feature is that they live in large groups of 3-5 individuals.
Also, they periodically float to the surface to breathe air. This is the most convenient moment to drop them. When dolphins are killed, they drop several pieces of raw cod. Of the weaknesses, one can single out that if these mobs are out of the water, they will instantly begin to receive damage.
Coral
Small transparent blocks in Minecraft 1.2.20.2, which are dotted with most of the bottom of reservoirs. Consequently, the player can mark them only near the water. In total, there are five varieties of this plant in Minecraft: tube, brain, bubble, fire, and horn.
The scope of application of corals in Minecraft 1.2.20.2 is rather scarce. They can be used as building materials or simply to decorate your building. Getting them is pretty simple – you can use any tool to get them, even the weakest.
Kelp
An underwater plant that has a unique animation. When naturally generated in Minecraft 1.2.20.2, they can be found next to seagrass or in all marine biomes. Kelp is mined with scissors and can be used in smelting to obtain dried kelp. In addition, the Traveling Merchant will gladly give you three emeralds for this sea plant.
How can I tame a parrot?

Is it possible to somehow craft records?

No. They can only be found in various structures.

What is a building block for in Minecraft 1.2.20.2?

It is mainly needed by map builders and developers. With its help, you can speed up construction at times.
Minecraft 1.2.20.2 Download