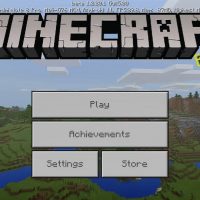 Minecraft PE 1.2.20.1
Download Minecraft PE 1.2.20.1
Download
Download Minecraft 1.2.20.1 full version with working Xbox Live for Android, and fight enemies with new weapons!
What is enjoyable about Minecraft 1.2.20.1?
This version is an assembly of elements that should have been added to Update Aquatic and Chemistry Update from Education Edition. First of all, this addition makes an exciting addition to the appearance in Minecraft 1.2.20.1 of such mobs as dolphins and drowned people, coral blocks, and a laboratory table.
And in general, all innovations, in one way or another, are associated with the water world, which from now on, as never before, has been developed and expanded!
Dolphins
Neutral mobs in Minecraft PE 1.2.20.1 can become a serious threat to the player during his travels around the world. It lives in almost all ocean biomes, except the frozen one. Most often, dolphins can be found in fairly large-scale groups. This is somewhere between 3-5 individuals.
From time to time, you can see how dolphins jump out of the water. This feature is explained by the fact that they need to replenish their oxygen reserves from time to time. Also, these mobs in Minecraft 1.2.20.1 can start chasing the character during his boat trip. Be careful, dolphins' behavior is quite unpredictable.
Trident
One of the possible weapons in Minecraft 1.2.20.1. We all know the standard sword, but thanks to this innovation, we can conduct close combat and long-range ones. Thus, throwing a trident at your opponent can cause serious damage to him.
It is also worth noting that drowned men often use tridents when attacking. In this case, you will not be able to pick up the item thrown by the mob.
Nautilus shell
An essential item introduced in the Minecraft Bedrock Edition 1.2.20.1 expansion. The main function of the shell is that it is used to craft an item such as a conduit.
There are several ways to get this item in Minecraft 1.2.20.1: buy from a wandering merchant, catch it with a fishing rod and get a drowned man with a drop. However, the last method is the most ineffective since the chance of falling out is very small.
How can I tame a parrot in Minecraft 1.2.20.1?

Is it possible to somehow craft records?

No. They can only be found in various structures.

What is a building block for?

It is mainly needed by map builders and developers. With its help, you can speed up construction at times.
Minecraft 1.2.20.1 Download